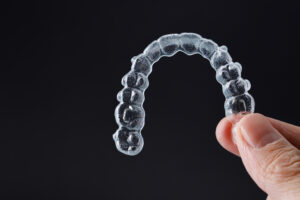 What actions should you commit to in the new year if you want to make positive changes in your life? For those who are affected by poor smile alignment, this can be a great time to start planning orthodontic work. Our Prairie Village, KS dentist can make this easier by recommending that you adjust your teeth with Orthodontic Clear Aligners. These clear appliances are easy to fit into your routine, as they can prove hard to observe as well as easy to remove. At the end of your treatment, you can feel more confident when you smile, and you can also enjoy oral health benefits from having your teeth straightened!
Is Your Smile Hurt By Poor Teeth Spacing?
Many people have at least some concern about the way that their teeth are spaced. This is often due to visible gaps and overlaps that hurt their confidence in the way they look, but treatment can also be recommended to those who have issues with TMJ disorder, and as a way to make preventive oral hygiene more effective. Treatment If you have unresolved issues with teeth that are too far apart, that overlap, or that exhibit any other spacing flaws, you can look into clear aligners as an alternative to work with traditional metal braces. By doing so, you can choose a treatment option that can prove surprisingly easy to fit into your daily life!
Choosing Orthodontic Clear Aligners For Your Treatment
The "adjustment" to your corrective clear aligners can be surprisingly easy. After all, these appliances are difficult to see, and they can also prove to be easy to remove when they are in the way. You will depend on a set of these aligners to gradually straighten your smile. Worn one after the other, they will gradually move your teeth in order to even out their positioning and fix any visible alignment issues.
How Straightening Your Teeth Benefits Your Oral Health
By fixing problems with your smile alignment, you can actually improve your bite function. A more even bite movement makes it easier for you to ease tension on your jaw joints and muscles, so you have a lower risk for TMJ disorder. You can also have a less difficult time fighting plaque and tartar buildup when you no longer have to work to fully clean teeth that overlap.
Talk To Your Prairie Village, KS Dentist About Using Orthodontic Clear Aligners!
Through treatment with custom clear aligners, you can make lasting improvements to your smile by finally fixing those frustrating issues with gaps and overlaps! Through these appliances, you can enjoy a better overall experience with orthodontic work. If you would like to find out more, please call our Prairie Village, KS dental office at 913-901-8585.