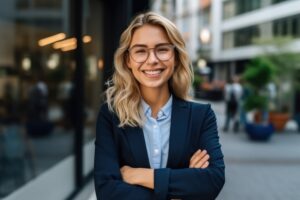 If you have been thinking about correcting the spacing of your teeth for cosmetic reasons, you may be hesitant to pursue traditional bracket-and-wire braces. This is understandable as they can make quite an impact on your appearance during your treatment. And while everyone's case is unique, they could stay on your teeth anywhere from multiple months to multiple years! This is why we offer a more discreet option to straighten your smile. With Orthodontic Clear Aligners, your treatment trays are virtually invisible, allowing you to go about your busy schedule without anyone else seeing your appliance. As you pursue a more appealing smile, you can do so without hampering your appearance in the meantime.
At your Prairie Village, KS dentist's office, we can create a clear aligner treatment plan that helps you reach your smile goals with less time in the dental office. While traditional braces require multiple visits to adjust your treatment wire, aligners allow you to simply move on to the next tray in your set when your teeth are ready to continue moving. By taking advantage of this orthodontic alternative, you can enjoy a smile to be proud of!
Improving The Uniformity Of Your Smile Offers Important Hygenic Benefits
While many people focus on the cosmetic benefits of straightening their smile, did you know that correcting your alignment helps improve your oral health? This is because when teeth are straight, it is far easier to brush and floss the entirety of their outer surface. But when teeth crowd or are crooked, there can be small pockets where bacteria gather away from the reach of your brush. These pockets contribute to decay and gum disease, worsening your smile, even while you brush each day.
Creating Your Clear Aligner System
When you visit our practice, we will evaluate your degree of dental misalignment to determine if clear aligners are a proper fit. Using digital imaging techniques, we take photographs that allow us to construct a computerized model of your bite. We can even show you what your smile will look like after correction on your first visit to explore clear aligners! Afterward, we send your digital impression to a lab where your treatment trays are created. Upon delivery, we will give you instructions on wearing your system to get the results you desire. Typically, you will wear them for 20 to 22 hours daily, removing them to perform your hygienic practices and enjoy meals.
Speak With Your Prairie Village, KS, Dentist About Orthodontic Clear Aligners!
If you would like to correct the position of your teeth, but would prefer an alternative to traditional braces, Orthodontic Clear Aligners may be right for you!  If you would like more information about this or any other service, please contact your Prairie Village, KS dentist's office at 913-901-8585.