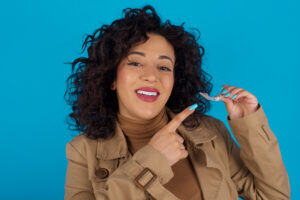 Should you simply accept that metal braces are your only option if you want to straighten your smile, or should you look into what other options are available to you? By looking at the different orthodontic services that are available, you can find that an appearance-friendly alternative to traditional aligners can help you. Our Prairie Village, KS dentist's office is prepared to work with you by offering Orthodontic Clear Aligners, a set of appliances that are both difficult to see and easy for you to remove at your convenience. Because you will not have to worry about your smile or your daily routine, you can find that starting corrective work is surprisingly easy!
How Orthodontic Clear Aligners Help Patients
With Orthodontic Clear Aligners, we can do something about a smile that is hurt by gaps, overlaps, and other consequences of poor spacing. Malocclusion is a frustrating cosmetic issue as well as a potential problem for your bite function and oral health. The good news is that you can have problems with your teeth spacing fixed. With Orthodontic Clear Aligners, we are able to help many people who are interested in better smile alignment. These appliances gradually move teeth into their appropriate positions, with each aligner that you receive contributing part of the overall adjustment.
What To Expect As You Begin Corrective Work
Your corrective work will begin after we have the opportunity to measure your teeth and bite structure. The information we gather is used to make sure your appliances are the right shape and size, and to make sure they make the right adjustments. Starting from the first aligner in your set, you will wear each one that you receive for a set length of time. While you should keep them on throughout the day to stay on track with treatment, you are able to remove them when you eat and clean your teeth.
Reasons To Look Forward To The Completion Of Your Treatment
After you finish corrective work with your clear aligners, you can show off a straighter, more attractive smile. As exciting as this can be, it is not the only benefit to Orthodontic Clear Aligners. Corrective work can also help you maintain a clean smile by making harder to reach areas easier to clean, and it can help to improve your bite alignment and function.
Talk To Your Prairie Village, KS Dentist About Orthodontic Clear Aligners
With Orthodontic Clear Aligners, our practice can help you take on issues with your appearance and oral health caused by malocclusion. If you want to learn more about this procedure, or if there is any other matter that we can help you with, reach out to our Prairie Village, KS dentist's office at 913-901-8585.