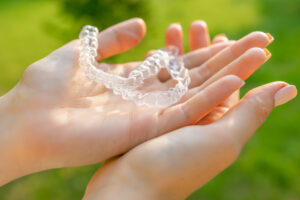 Making the decision to straighten an uneven smile can mean more than just committing to care that improves how you look. People affected by malocclusion—uneven teeth spacing—can have problems with their bite movement, which can lead to pain and sensitivity issues. They can also have a more difficult time keeping their teeth clean. The good news is that because your treatment options include the use of Orthodontic Clear Aligners, you can improve your appearance and oral health while avoiding the need for conspicuous metal braces! Our Prairie Village, KS dentist's office is prepared to offer this service to individuals ready to change their smile and oral health with a welcome alternative to traditional orthodontic work.
Why People With Spacing Issues Decide To Use Clear Aligners
Problems with poor teeth spacing can leave people with distracting flaws; in addition to having awkward gaps or overlaps, you can be frustrated because your smile has a generally uneven appearance. While this can be embarrassing, people still hesitate to bring the matter up because they worry about the treatment experience. Metal braces, while effective at fixing spacing flaws, can feel conspicuous due to their appearance. They can also feel disruptive to your daily life because they are immovable for the duration of care. The good news is that many people qualify for a different approach. With Orthodontic Clear Aligners, we can do the work of straightening your smile without these issues!
How The Right Planning Benefits Your Aligner Treatment
To make sure you have the right treatment experience with your clear aligners, Dr. Browne will take detailed measurements of your teeth and oral structures. The measurements inform the shapes and sizes of your aligners as well as what movements they need to encourage. After this is done, we can provide appliances that will help you guide your teeth into more appropriate positions, which can lead to a welcome confidence boost and positive changes to your oral health.
What Can Clear Aligners Do For Your Oral Health?
Many people think about orthodontic work in terms of what it can do for their appearance. What you should know is that you can also fix problems with your oral health by straightening your teeth. For people whose teeth overlap due to crowding, corrective work can make daily hygiene efforts more effective. This is because you will not have to worry about portions of enamel being covered and harder to reach. You can also have an easier time maintaining a natural and comfortable bite movement, which lowers your risk for TMJ problems in the future.
Talk To Your Prairie Village, KS Dentist About Clear Aligner Treatment
By starting treatment with Orthodontic Clear Aligners, you can put problems with your appearance behind you without the need to wear conspicuous, fixed metal braces. For more information, reach out to our Prairie Village, KS dentist's office at 913-901-8585.