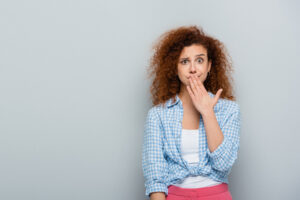 The effort you put into hiding that your teeth are crooked can certainly be tiring. This is not something you should feel you have to do in order to avoid the embarrassment that poor spacing can cause. At our Prairie Village, KS dentist's office, we can actually recommend a solution that is surprisingly easy to fit into your life. With Orthodontic Clear Aligners, we can provide a set of clear appliances that gradually move teeth that are affected by gaps and overlaps. After you complete treatment, you can feel excited to show off just how much your appearance has changed, and you can enjoy the oral health benefits that come with orthodontic work.
Poor Teeth Spacing Can Be An Embarrassing Cosmetic Problem
People who have noticeable issues with their teeth spacing can be embarrassed by the way they look. After all, these gaps and overlaps can draw unwanted attention on their own, and they can also create problems with the overall symmetry of your smile. Why would someone who feels bothered by their smile alignment put off treatment? For many, concerns about orthodontic work come from the assumption that they will have to use metal braces. What you should know is that you can actually see a desirable treatment outcome with discreet clear aligners. Through the use of these appliances, you can gradually straighten your teeth while only depending on aligners that are hard to see and easy to remove!
Plan Treatment With A Set Of Orthodontic Clear Aligners
Your custom clear aligners will be created after we take detailed measurements of your teeth and oral structures. A personalized approach to care is important because it can ensure that the right movements occur. Measurements also ensure that you have appliances that fit properly and feel comfortable. Make sure that you wear each one throughout the day, and only remove them at times when they are directly in your way, so that you stay on track with treatment. Because of their clear appearance, you will not have to fret over what effect they have on your smile.
Work To Correct Poor Smile Spacing Can Have More Than Just Cosmetic Benefits
There are more benefits to straightening your teeth than just the cosmetic results that you see. Through corrective work, you can also improve your bite function and avoid problems with TMJ disorder. If your issues include problems with teeth that currently overlap, you will be able to move them so that they are easier to care for effectively when you brush.
Talk To Your Prairie Village, KS Dentist About Straightening Your Crooked Teeth
Through the use of Orthodontic Clear Aligners, you can resolve problems with your appearance so that you no longer have to feel embarrassed by your smile. If you would like to find out more, please reach out to our Prairie Village, KS dentist's office at 913-901-8585.