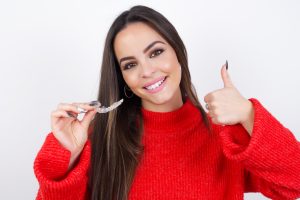 It can be exciting to start orthodontic treatment, because you are beginning a process that can deliver both cosmetic and oral health improvements. However, you can feel wary about treatment as well, because you worry about the impact that it will have on your appearance and daily activities. With the right orthodontic appliances, you can actually put these concerns behind you. Your Prairie Village, KS dentist can offer corrective work with clear aligners that discreetly make positive changes to your smile by moving teeth that are out of position. In addition to being difficult to see, these aligners are easy to quickly take out before a meal, or before you clean your teeth.
Will I Have Trouble Adjusting To My Time Wearing Orthodontic Clear Aligners?
Orthodontic clear aligners can make the process of correcting smile flaws easier to begin and more comfortable to fit into your daily life. With your appliances, you will be able to move teeth that are too far apart, or correct issues with teeth that overlap and look awkward. Between their lack of visibility when worn and the use with which you can take them out, you can find that they have less impact on your typical day than you could anticipate!
We Take Care To Provide Aligners That Are Customized For Your Individual Use
Before we begin your orthodontic treatment, we will take detailed measurements of your teeth and oral structures to make sure that you are a good candidate for an adjustment. These measurements also help us plan your care by providing aligners that are the right shape and size to stay secure. You will receive a customized set, with each appliance taking you a step closer to your finished adjustment. All of them are designed to avoid detection, and each one is removable, so they will not change your daily routine.
Life After You Finish Your Adjustment
As you learn more about treatment with orthodontic clear aligners, you can find out about the exciting benefits that await you when you finish your adjustment. Your straightened smile can appear more attractive, and you can have an easier time biting and chewing with even motions. You can even have an easier time caring for your smile, as you no longer have to work to carefully clean teeth that overlap.
Talk To Your Prairie Village, KS Dentist About Orthodontic Treatment
Through the use of orthodontic clear aligners, you can fix problems with the spacing of your teeth and improve the quality of your smile. The appliances provided at our practice make it possible for you to enjoy discreet treatment, meaning you can wear them even in social and professional settings where your appearance is prioritized. You can also be glad to know that you can easily remove your aligners when they might be in your way. To learn more about starting treatment, reach out to your Prairie Village, KS dentist's office at 913-901-8585.