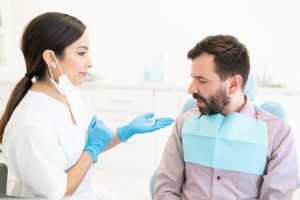 Many people want to do something about problems with uneven teeth, but they feel reluctant to say so because they are not keen on starting corrective work with metal braces. What can you do about this problem if you feel uncomfortable with such a conspicuous appliance, or if you prefer not to wear fixed aligners for an extended period of time? Our Prairie Village, KS dentist's office can recommend treatment with SureSmile Clear Aligners. For those who qualify, this treatment approach makes orthodontic work less intimidating by using clear, removable appliances. What sets them apart from other clear aligners is the way they focus on shifting your front teeth so that we can deliver results in less time!
Using SureSmile Clear Aligners To Improve Your Smile
SureSmile Clear Aligners rely on a series of personalized aligners to move a person's teeth in desirable directions. Each appliance is worn for a set period of time to shift teeth into the appropriate positions. By using this approach over treatment with another option, you gain several benefits. You can marvel at how easy it is to fit an adjustment into your daily life when you have appliances that are both clear and removable. You can also appreciate how these aligners are able to shorten your overall treatment time!
Starting Your SureSmile Treatment
Dr. Browne relies on detailed digital images to capture measurements of your teeth and oral structures. These images make it possible for us to plan treatment that responds to your individual issues with malocclusion. You will receive a series of aligners, with each one taking you another step closer to your goal of completely fixing your smile. To stay on track with your treatment end date, you should wear your aligner throughout the day, but you can take it out when you need to eat, or when you clean your teeth. Upon finishing your procedure, you can enjoy a more confident, symmetrical smile!
What To Expect When Your Adjustment Is Finished
Treatment with SureSmile aligners will help you by fixing any gaps or overlaps between teeth that call for care. In addition to doing this, your adjustment can help you improve your oral hygiene by making teeth that used to awkwardly overlap easier to clean. Straighter teeth can also make biting and chewing more comfortable by reducing stress on your jaw joints and muscles.
Talk To Your Prairie Village, KS Dentist About SureSmile
Patients at our practice can be happy to know that Dr. Browne is ready to discuss alternatives to traditional orthodontic treatment. For those who qualify, corrective work with SureSmile Clear Aligners can produce exciting results in less time than you anticipate! If you would like to find out more about this or any other service offered at our practice, please call our Prairie Village, KS dental office at 913-901-8585.