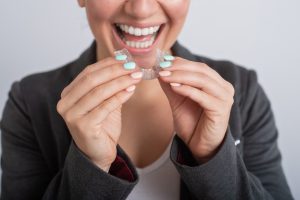 Is it going to be difficult to keep orthodontic aligners on your teeth throughout each day? The idea of straightening your smile can appeal to you, but it can feel intimidating if you imagine that aligners will be difficult to wear or keep up with on a daily basis. What you should know is that clear aligners provide discreet appliances, which means they will be difficult to notice. They are also easy to remove, which means they are not going to be in your way when you brush or floss your teeth. At our Prairie Village, KS dental office, we can recommend treatment with SureSmile Clear Aligners to address malocclusion. In addition to being discreet and easy to adjust to, SureSmile aligners can actually give you the results you want in less time!
SureSmile Aligners Make Orthodontic Treatment More Discreet
If you are worried about orthodontic treatment because it may change your appearance, you can be relieved to hear more information about clear aligners. Aligners that are made from a clear material can remain in place without attracting unwanted attention. This is one exciting benefit to using SureSmile Clear Aligners. Those who worry that braces will create problems for them in social or professional settings can feel more at ease with appliances that are difficult for others to notice.
Additional Benefits To Using SureSmile Aligners
SureSmile aligners are capable of moving your smile into better alignment without drawing unwanted attention. You can also be glad to know that these appliances are easy to remove at any time, so they will not be in your way when you eat or clean your teeth. As you look into treatment with SureSmile aligners, you can learn that they actually offer shorter treatment times than other aligner systems. Because of this, you can enjoy the results you want without feeling frustrated by a long wait for your results!
Orthodontic Work Provides More Than Just A More Attractive Smile
As you learn more about orthodontic treatment, you can discover that corrective work does more than just positively change the way you look. Fixing problems with gaps and overlaps between teeth will help you make your bite function more even. This reduces stress and strain on your jaw that can lead to TMJ problems, and it can prevent overuse from certain teeth. Straighter teeth also help you maintain good oral hygiene.
Talk To Your Prairie Village, KS Dentist About SureSmile Aligners
Dr. Browne is happy to talk with patients who wish to change the way they look through orthodontic treatment with SureSmile Clear Aligners. These appliances make orthodontic treatment discreet, and they also deliver results in less time! If you wish to learn more, please call our Prairie Village, KS office at 913-901-8585.