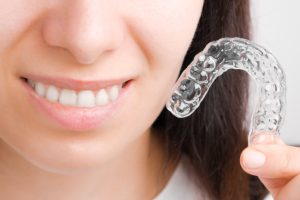 Many adults feel unhappy with their teeth because they are not properly aligned. An issue with malocclusion can feel more embarrassing in adulthood because people tend to address smile gaps and overlaps in their teen years. With that said, not everyone has orthodontic work before they are adults, and some who do can experience teeth shifting that hurts their appearance. Our Prairie Village, KS dentist's office is prepared to help if you wish to start orthodontic treatment as an adult. With SureSmile Clear Aligners, we provide a discreet approach to care, one that relies on a series of removable clear aligners instead of fixed braces. In addition to making your corrective work less conspicuous, we can use these appliances to improve your smile in less time than other aligner systems require!
Are You Ready To Do Something About Malocclusion?
Problems with teeth that are improperly spaced can make you self-conscious because your smile looks uneven or asymmetrical. It can also be a concern because poor spacing can affect matters like your bite function, or even your ability to maintain a healthy smile. Fortunately, you can deal with these problems with discreet, clear appliances. The clear braces provided during SureSmile treatment can be difficult for others to see, but they can effectively improve your appearance over time by gradually moving teeth into better positions. Because your aligners can be removed, you can move forward with treatment without wondering how it will affect your ability to eat or clean your teeth.
Beginning Treatment With SureSmile Clear Aligners
To work effectively, patients need to receive personalized aligners. To make sure that your appliances are the right shape and size, and that they make the appropriate changes to your smile, we will use digital technology to closely measure your teeth. Through these measurements, we will be able to produce aligners that are just the right shape and size to make desired improvements in a timely manner. While you are able to remove SureSmile aligners without difficulty, keep them in place for as long as possible throughout treatment, as wearing them consistently will help you stay on track with your corrective work.
SureSmile Aligners Can Produce Results In Less Time!
What separates SureSmile Clear Aligners from other clear braces? The design of these appliances prioritizes the movement of your front teeth – in other words, you see improvements sooner in the area that has the most effect on your appearance. This does more than just produce visible results sooner. This approach to corrective treatment can actually lead to patients completing treatment in less time than other appliances require.
Talk To Your Prairie Village, KS Dentist About Treatment With SureSmile Aligners
Dr. Browne is ready to meet with patients interested in correcting problems with poor smile alignment. To find out how SureSmile Clear Aligners can help you, call our Prairie Village, KS office at 913-901-8585.