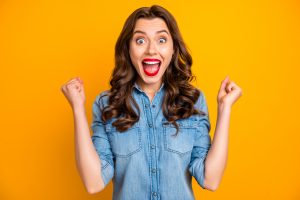 When people begin orthodontic treatment, they tend to be eager to finish their adjustment. Even with clear aligners, which can make treatment more convenient, it can be difficult to resist some feelings of impatience as you wait to start showing off your straightened smile. An exciting benefit of treatment with SureSmile Clear Aligners is the ability to see results in less time! At our Prairie Village, KS dentist's office, we can recommend the use of SureSmile aligners for many people who struggle with poor smile alignment. Because these appliances are designed to prioritize the moving of your front teeth, we can actually have your adjustment completed in less time than other appliances require.
Orthodontic Work Can Produce Exciting Smile Improvements
At the end of orthodontic treatment, you can show off a smile that is more symmetrical, one that is free of conspicuous flaws, and one that generally fills you with more confidence. While there are other reasons to straighten your teeth, the benefits of a better smile can be hard to turn down. Because patients know that they will see an improved appearance from their adjustment, they can be eager to finish treatment as soon as possible. SureSmile aligners make this possible. Their design is based around prioritizing the movement of their front teeth so that they see results sooner. Like with other clear aligners, you also enjoy the benefits of appliances that are difficult to see and easy to remove.
How SureSmile Aligners Shorten Treatment Times
Your SureSmile aligners will be made to focus on the more efficient movement of your front teeth. This produces cosmetic benefits in less time, and it also leads to a shorter overall treatment. Because of this approach to their design, patients can be finished with a correction in as little as one year! As you learn more about SureSmile aligners, you can find out how they can give you a shorter adjustment, and also how your correction can help with more than just the way you look.
What Else Can Orthodontic Treatment Do To Benefit You?
As you discuss the reasons to straighten your teeth with your dentist, you can learn that corrective work is intended to do more than just change your appearance. Better smile alignment makes it possible to fix issues with your bite that make you more vulnerable to TMJ disorder. People who straighten their teeth can also find that they have an easier time protecting themselves against decay and gum disease. This is because the straightening of teeth that overlap can make oral hygiene habits more effective.
Talk To Your Prairie Village, KS Dentist About SureSmile Clear Aligners
Dr. Browne is prepared to offer SureSmile Clear Aligners to help patients fix problems with smile gaps and overlaps. If you would like to learn more, please call our Prairie Village, KS office at 913-901-8585.