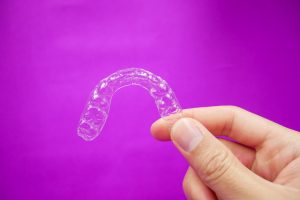 While the start of orthodontic treatment can be exciting, it can also cause a person to feel a little unease, as they will not know what to expect from their adjustment. Because clear aligners make orthodontic work more convenient as well as less conspicuous, you can be less nervous when beginning your correction, but you may still have questions. You can be happy to know that with SureSmile Clear Aligners, you will be able to wear your appliances discreetly, and that you are able to remove them at any points where they may be in your way. You can be happy to know that in addition to offering a more convenient solution for orthodontic work, SureSmile aligners can lead to a completed treatment in less time than it takes to fix a person's smile using other appliances.
Your Aligners Are Custom-Made To Fix Your Alignment Issues
In order to provide the best possible treatment experience, clear orthodontic aligners are custom-made for each patient. We use digital technology to closely map your teeth, which enables us to create appliances that are remarkably well-suited to you. While you can feel some discomfort as your teeth move into better positions, you should understand that SureSmile Clear Aligners are prepared just for your needs, and can help you see fantastic results as you move from one appliance to the next.
Growing Comfortable With Your SureSmile Treatment
Because you will not have to worry about how you look, or how to eat and clean your teeth without interference from your aligners, you can find it easy to grow comfortable with SureSmile treatment. While metal braces have been effective at helping many people, some patients worry so much about their appearance – and the inability to remove the braces themselves – that they never feel at ease with wearing them. Your SureSmile appliances can be worn without gathering unwanted stares, and you can quickly remove them at any point they are in your way, making them a welcome convenience.
Your Appliances Can Shorten The Time You Ultimately Spend Straightening Your Smile
Have you hesitated before committing to orthodontic treatment in the past? A benefit of treatment with SureSmile Clear Aligners is a shortened adjustment period. What this means is that even if you feel that aligners are an unwelcome addition to your life, you will be done with them in less time than it would take to finish an adjustment with other appliances.
Our Prairie Village, KS Dentist's Office Offers SureSmile Orthodontic Treatment
At our Prairie Village, KS dentist's office, we have helped patients concerned about poor dental alignment by offering treatment with SureSmile Orthodontic treatment. With SureSmile appliances, you can have an orthodontic adjustment that is easier – and shorter – than you might think possible! To find out more, please call Dr. Browne's Prairie Village dental practice at 913-901-8585.