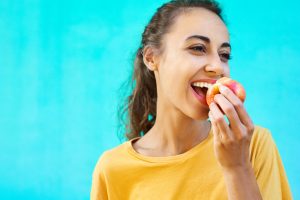 While patients are often interested in braces because they are tired of malocclusion affecting their appearance, orthodontic work can boast more than just cosmetic benefits. Your bite function can be impacted by the positions of your teeth. For an individual with crooked, poorly spaced, or otherwise misaligned teeth, it may be difficult to maintain a comfortable bite. In addition to taxing your jaw, a flawed bite function can put more demands on certain teeth than others, leading to exaggerated wear and tear. At our Prairie Village, KS dentist's office, we are prepared to take care of an individual's poor dental alignment with SureSmile Clear Aligners. SureSmile aligners are effective for those who want to enjoy a discreet, less intrusive approach to orthodontic work. You should also be aware that SureSmile aligners can help you see results in less time than other appliances!
The Spacing And Alignment Of Your Teeth Can Be An Issue For Your Bite
When your bite function is flawed, it can create several potential issues. You may not have the ability to comfortably bite and chew, so working through different foods can create stress on your jaw joints. If this pressure continues to mount, you can wind up with persistent pain from TMJ disorder! You may not realize it, but you could be overusing certain teeth when you eat. That can create a potential problem for wear and tear that makes those teeth more likely to experience problems with damage or decay.
Poor Dental Alignment Can Also Affect Your Cavity Risk
Bite troubles are not the only oral health concern linked to malocclusion! If you have teeth that overlap in unnatural and awkward ways, you may have a difficult time cleaning them properly. What this means is that you can have areas of your smile that are prone to plaque and tartar buildup. By fixing this, you can find it easier to protect yourself against cavities and gum disease.
Using SureSmile Clear Aligners To Fix Your Teeth
By using SureSmile Clear Aligners for your orthodontic procedure, you can enjoy certain advantages other appliances do not provide.
By choosing SureSmile aligners over traditional metal braces, you can experience an adjustment without being stuck with a permanent appliance. You can also feel more at ease with your appearance, as your clear aligners will not draw unwanted attention. The discretion that SureSmile aligners afford you can be particularly attractive if you work in a professional setting and want to maintain your appearance.
SureSmile aligners can actually lead to shorter treatment times than other clear aligners. Your SureSmile appliances are designed to make the movement of your front teeth a priority. When you ask about these aligners, you can learn that they produce faster results because of this – you can see the improvements you want in as little as three to six months!
Dr. Browne Makes SureSmile Aligners Available To People In And Around Prairie Village, KS
Our Prairie Village, KS dentist's office is proud to provide SureSmile Clear Aligners for patients who want to do something about frustrating malocclusion. To find out more about these appliances, please call Dr. Browne's dentist's office at 913-901-8585.