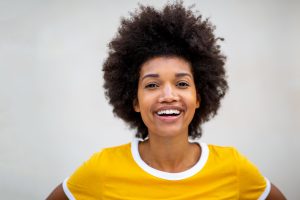 After closing a gap between teeth, your smile can have a more uniform look, and you can finally be free of a glaring flaw that can demand attention from others. Many people who express an interest in straightening their teeth in order to fix gaps, straighten out overlapping teeth, or correct any other alignment flaws are sometimes unaware of their different treatment options. For example, did you know that with SureSmile Clear Aligners, you can enjoy the benefits of clear appliances as well as a shorter treatment time? You can find out more about SureSmile aligners at our Prairie Village, KS dentist's office. After evaluating your current smile, we can talk to you about what to expect with these modern orthodontic appliances, as well as what to expect after your smile has been straightened!
SureSmile Clear Aligners Can Produce Shorter Treatment Times
What sets SureSmile Clear Aligners apart from other appliances? While there are other clear braces that make orthodontic treatment discreet, SureSmile offers patients shorter overall treatment times. This is possible because they are designed in a way that prioritizes the movement of your front teeth. This adjustment can produce improvements in less time, and may give you renewed confidence by changing your smile in just three to six months!
What To Expect While Wearing Your SureSmile Appliances Each Day
What will your time with SureSmile Clear Aligners be like? You should keep these appliances in place as often as possible if you want to stay on track with your adjustment, so it is important to keep them in place throughout the day. With that said, you can remove them when you clean your teeth or eat. You can be happy to see that these appliances are difficult to notice when in place, so you will not have to worry about your appearance being negatively affected in important social or professional gatherings.
Orthodontic Work Can Lead To A Better Bite Function
While SureSmile aligners do provide exciting smile improvements for patients, orthodontic work helps with more than just the way a person looks. When your teeth are straightened, your natural bite function can improve. This can reduce pressure on your jaw that leads to TMJ disorder. An adjustment can also help you because you can more evenly bite and chew, so you no longer have to worry about overworking certain teeth. You can ask your dentist questions about SureSmile aligners in order to find out more about their benefits.
Talk To Dr. Browne About Using SureSmile Aligners To Close A Gap Between Teeth
At our Prairie Village, KS dentist's office, patients who are interested in closing smile gaps, evening out overlapping teeth, or correcting any other alignment issues can be happy to learn about the benefits of SureSmile Clear Aligners. To learn more about these appliances, or to make an appointment with Dr. Browne, call our dentist's office at 913-901-8585.