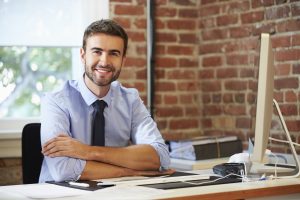 The right attire can help you establish a professional demeanor in your office, which can make you more comfortable meeting with clients, and more confident in your interactions with coworkers. Creating the right impression can involve more than just fitting in with a certain dress code. For example, people who want to straighten their teeth sometimes hesitate to look into orthodontic work because they are worried about how they might look with metal braces. At our Prairie Village, KS dental practice, we can provide you with an alternative to traditional orthodontic appliances in order to help you improve the way you look discreetly. MTM Clear Aligners offer smile improvements with removable, clear appliances. What sets these aligners apart from similar alternatives is that MTM aligners are designed to focus movement on your front teeth in order to shorten your treatment time!
You Can Easily Adjust To Life With Clear Aligners
One major benefit to wearing clear aligners instead of conventional metal braces is that you can have an easier time adjusting to life with clear aligners. After all, you will not have to wonder if people are distracted by your orthodontic appliance when you speak with them. You can also remove them whenever you need to eat, or clean your teeth, so they are not going to interfere in these activities.
Wearing MTM Aligners In Professional And Social Environments
In a professional setting, MTM Clear Aligners can be worn with confidence. This is important, as the most efficient treatment with clear aligners does require that you wear them as often as possible! The clear plastic used to make these appliances is easy to overlook, which means you can speak and smile without worrying that your aligners are making a poor impression. These benefits can also make you more comfortable in a social environment, as you do not have to feel self-conscious that your aligners might make you look young or immature.
Your Aligners Can Provide Oral Health Benefits
When people think about straightening their teeth, they often dwell on the benefits for their smile. You should understand that orthodontic work can improve your quality of life in may ways. One important benefit to an adjustment is that straighter teeth offer oral health advantages. Straighter teeth are less likely to interfere with your biting and chewing functions. A correction can also straighten teeth that overlap in ways that make them difficult to effectively clean.
Talk To Dr. Browne About Using MTM Clear Aligners
At our Prairie Village, KS dental practice, Dr. Browne is ready to discuss the many benefits to wearing MTM Clear Aligners. If you want to discreetly improve your smile, you can learn how aligners make it possible for you to feel more comfortable with orthodontic work in professional and social settings. To schedule a visit with Dr. Browne, contact our office today at (913) 901-8585.