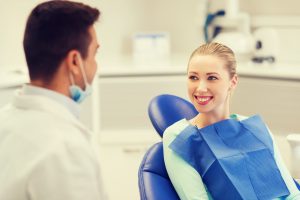 The way you feel about your smile can certainly improve after you correct a problem with crooked teeth. By making your smile more even, you can feel more attractive, which can provide you with an important confidence boost in your life. So should you consider orthodontic work a purely cosmetic treatment? There are actually advantages to adjusting crooked teeth that are more functional than esthetic – you can improve your bite function, and make it easier to keep plaque and tartar off your teeth. Your Prairie Village, KS dentist can talk to you about making changes to your smile with MTM aligners.
The Benefits That Come With An Orthodontic Correction
It can be easy to see how your smile benefits when you have orthodontic work completed. Your smile can look more symmetrical, and you can correct any overlaps or gaps that command too much attention. What you should know is that there are other benefits that deserve attention – straightening your teeth can actually improve your oral health. Once you complete an adjustment, you can make your bite function more even, which effectively reduces jaw pressure that can cause TMJ dysfunction. You can also straighten overlapping teeth, which can make hard-to-reach spaces easier to clean.
Why Should You Use MTM Aligners To Address Crooked Teeth?
Should you ask your dentist for information about MTM aligners? If you want to correct your smile, these appliances can provide results, while feeling less intrusive. These aligners are constructed with the goal of moving teeth at the front of your smile, which are most important to your appearance. This can actually reduce the period of your adjustment, so you can show off an improved smile in less time. You also have the benefit of using an aligner that does not have an effect on the way you look, which can make you feel at ease with your orthodontic work when you are in social or professional situations.
Your Daily Life During Orthodontic Work
Because your MTM aligners can lead to a completed adjustment in a relatively short time, and because they are hard to observe, you can have little to worry about during your orthodontic adjustment. With that said, you may want to keep a few things in mind:
While you can remove your aligners on your own, you should wear them as often as possible to stay on track with your treatment.
Because they are designed to be discreet, you should not feel like you have to leave them off in a workplace setting, or a social situation.
Being able to remove your aligners means you can have an easier time keeping up with your daily oral care than if you had to try and work around metal braces to clean your teeth.
Dr. Browne Can Help You Improve Your Smile, And Your Oral Health, With MTM Aligners
If you want to make improvements to your crooked smile, but worry about traditional orthodontic treatment, talk to Robert M Browne, DDS about MTM aligners! These modern appliances can shift teeth into proper spaces in a more convenient fashion. To learn more or to schedule a visit with Dr. Browne, contact our office today at (913) 901-8585.